Getting a quick source of calories and protein in after a tough workout is really important for recovery, and preventing sore muscles. Especially if you are training everyday, and in my case, twice a day!
Of course eating a balanced meal after training is the ideal, but when you need a quick and easy snack to replenish tired muscles straight after training, protein powders are ideal, and can be used to bridge the gap to your next meal.
I have been cutting back on animal products and trying out a higher plant based diet, so I looked into alternative non whey protein recovery powders. MRM has some awesome vegan protein powders that offer 24g of protein per serving, with no artificial flavors or coloring's, and they come in interesting and tasty flavors. Perfect for me to have as a quick post workout recovery drink!
We tried out their vanilla and chocolate mocha flavors.
Although the MRM Veggie Elite powders are tasty and mix well into water and milk (or non dairy alternatives), you don't just have your protein powders in drink form, you can also use protein powders in cakes, cookies, protein balls, homemade quest bars and smoothies! The possibilities are pretty endless.
We love using the MRM chocolate mocha powder to make homemade quest bars- (which I am now pretty addicted to) and the vanilla powder to make delicious pancakes, and fruit smoothies!
Here are a couple of awesome recipes which use MRM protein powders:
Vanilla, Chocolate and Banana Protein Pancakes with PB Frosting 
Makes three pancakes –> one serving!
Ingredients:
1 scoop vanilla bean veggie elite performance protein (MRM all natural vanilla whey would also work)
1 tsp baking powder
2 Tbsp unsweetened cocoa powder
1 ripe banana, mashed
1/4 cup old fashioned oats
1 egg
Topping:
1/4 cup plain Greek yogurt
1 tsp natural vanilla extract
1 Tbsp natural smooth peanut butter
Directions:
Mix all ingredients for the pancakes in a blender and blitz until smooth.
Cook pancakes in a pan on medium heat- just like regular pancakes, flipping when you start to see bubbles form.
Combine the ingredients for the topping with a fork or whisk.
Layer the pancakes with the topping mixture and as a little bit of added decadence why not top your pancakes with choc chips, banana slices and some broken pretzels?
No Bake Chocolate Mocha Protein Balls 
No-bake recipes using wholesome, plant based ingredients are awesome- they are super quick to make, delicious and nutrient dense! These protein balls are so delicious, and feel so decadent- chocolatey, fudgy and divine. But, because they are made with MRM's Chocolate Mocha Veggie Elite Protein they are actually good for you! Incredible.
These delicious snack balls are just the right level of sweetness, and are packed with  plant protein and healthy fats- so not only will they satisfy your sweet tooth, but they will also keep you going until your next meal. I love taking them to work and dipping them in some nut butter, or taking with me to training to eat as a quick post-workout refuel.
Makes 8 truffles –> 3/4 per serving
Ingredients:
½ ripe avocado
1.5 scoops Chocolate Mocha Veggie Elite
¼ cup pureed silken tofu
5 drops liquid stevia (optional, could use maple syrup or honey as an alternative)
1-2 tbsp non dairy milk e.g. almond/ rice (if needed)
Directions:
Place all ingredients (except the milk) into a food processor.
Blend until a ball of 'dough' forms.
You may need to add a little milk, 1 tbsp at a time until it forms into a dough.
Make sure all ingredients are combined.
Divide the mixture into 8 truffles (a small cookie or ice cream scoop is ideal for this) and place them on a small baking tray.
Refrigerate the balls for a few hours to set, or store in your freezer if you made a larger batch/ want to keep them for longer.
These protein balls can be rolled in some shredded coconut, chia or sesame before refrigerating if you want some extra crunch!
Check out our Instagram and Twitter for more protein packed recipe ideas!
In addition to protein powders, pre workout powders and BCAA products can really help to improve performance and recovery.
We tried out MRM's Driven- Natural Pre workout supplement which is supposed to increase energy, stamina and endurance. After trying it for the first time the other day, I can say that I think I felt a difference as I felt less tired during my workout and felt more focused.
As a massive bonus MRM's Driven actually tasted good, even though it had no artificial flavors or sweeteners! MRM's Driven is one of, if not the first pre-workout formula developed with pure ingredients that include natural extracts, amino acids, vitamins and minerals to support the body's complex metabolic function. Pretty awesome stuff! I will definitely continue to supplement my diet with it to continue to get the benefits.
The final MRM product that we tried was the Post workout BCAA+G Reload mix. BCAA's or branched-chain amino acids are broken down during exercise and so a recovery mix containing BCAA's is a great way of replenishing our stores- helping to support muscle recovery, reduce fatigue and muscle soreness.
In terms of flavor, I thought that the Island Fusion flavor was good, but my boyfriend really didn't like it as he thought there was a bitter after taste. But as this mix is so beneficial in terms of recovery I think I can get over a slight aftertaste! I enjoyed having the BCAA+G Reload straight after my workout with ice cold water and a banana on the side for a quick carb boost.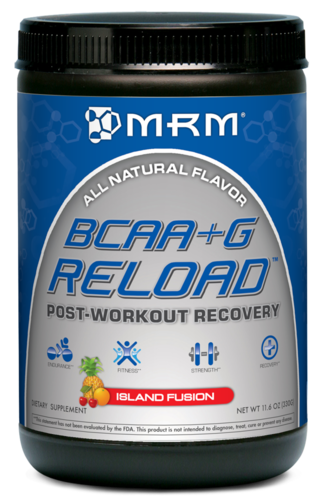 *Although we received MRM products free for review, all the opinions expressed here are our own.